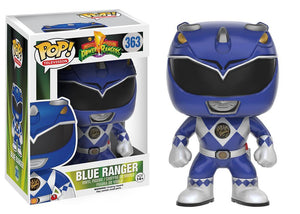 Funko MPPR Metallic Blue Ranger POP! Vinyl - 363
Funko teams up with Mighty Morphin Power Rangers (MMPR) to bring you the classic 90's teenager heroes. Assemble the Power Ranger team with the Blue Ranger as they battle Rita's invasion of the Earth.

Pop! vinyl figures are sculpted vinyl collectibles and packaged in windowed display box.

Pop Vinyls measure 3.75" inches / 9.5 cm tall.